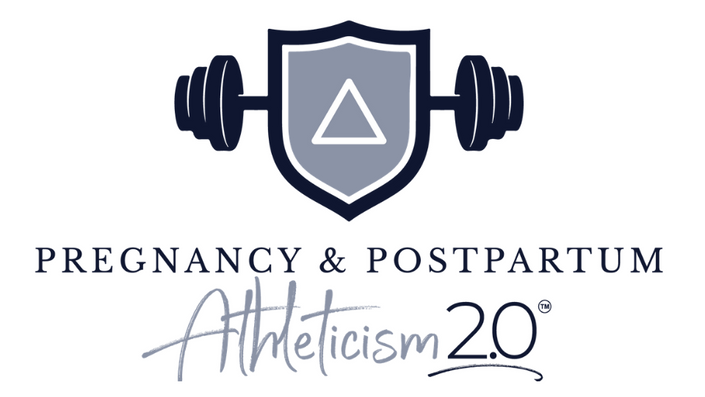 Pregnancy and Postpartum Athleticism ™ 2.0
An online course for coaches, trainers and practitioners
Enroll in Course
Improve Your Coaching Expertise So You Can Become The Coach Pregnant And Postpartum Athletes NEED To Guide Their Training
Pregnancy and Postpartum Athleticism™ is a power packed, online certification course that will up level your coaching skills and dramatically improve your ability to support pregnant and postpartum athletes.

Pregnant and postpartum athletes are NOT a special population.
We believe that an athlete is any person who pursues fitness across a spectrum of interest and ability. (So yes, you do coach athletes).
The majority of women who enjoy exercise will become pregnant at some point and need a coach who knows how to guide them through that chapter and as they continue their athletic endeavors.
Athletes need a coach who gets them, and is willing to work WITH them, not just offer generic messaging and exercise modifications.
Gyms and coaches are losing memberships and worse, the trust of their clients because pregnant and postpartum athletes do not feel understood or supported beyond exercise modifications and dismissive sentiments like:
"Keep doing what you've always done!"
"Just modify xyz"
"It's normal to pee when you jump"
"Don't lift over 20lbs or over 75%"
"Just don't do abs"
Exercise modifications are a great start for coaching pregnant and postpartum athletes, but coaches also need context to know why they are suggesting a modification, and when they should implement it.
We KNOW that generalizations and extremes do not teach, yet that's all women are being offered during this time in their life from their Doctor, friends and social media.
Pregnant and postpartum athletes need a coach who understands and respects their mindset, goals, body, beliefs and concerns about their training now and long term.
If a coach can properly support a high level athlete, they should also be able to coach a mom who wants to workout a couple days a week and lift her kids without discomfort.
The problem is, there is no basic education about pregnancy and postpartum (nevertheless how it applies to athletes) in our coaching, training, exercise science or kinesiology curriculum.
We also recognize the significant positive upswing in people looking to become coaches, so that they can be the coach they wish they would have had.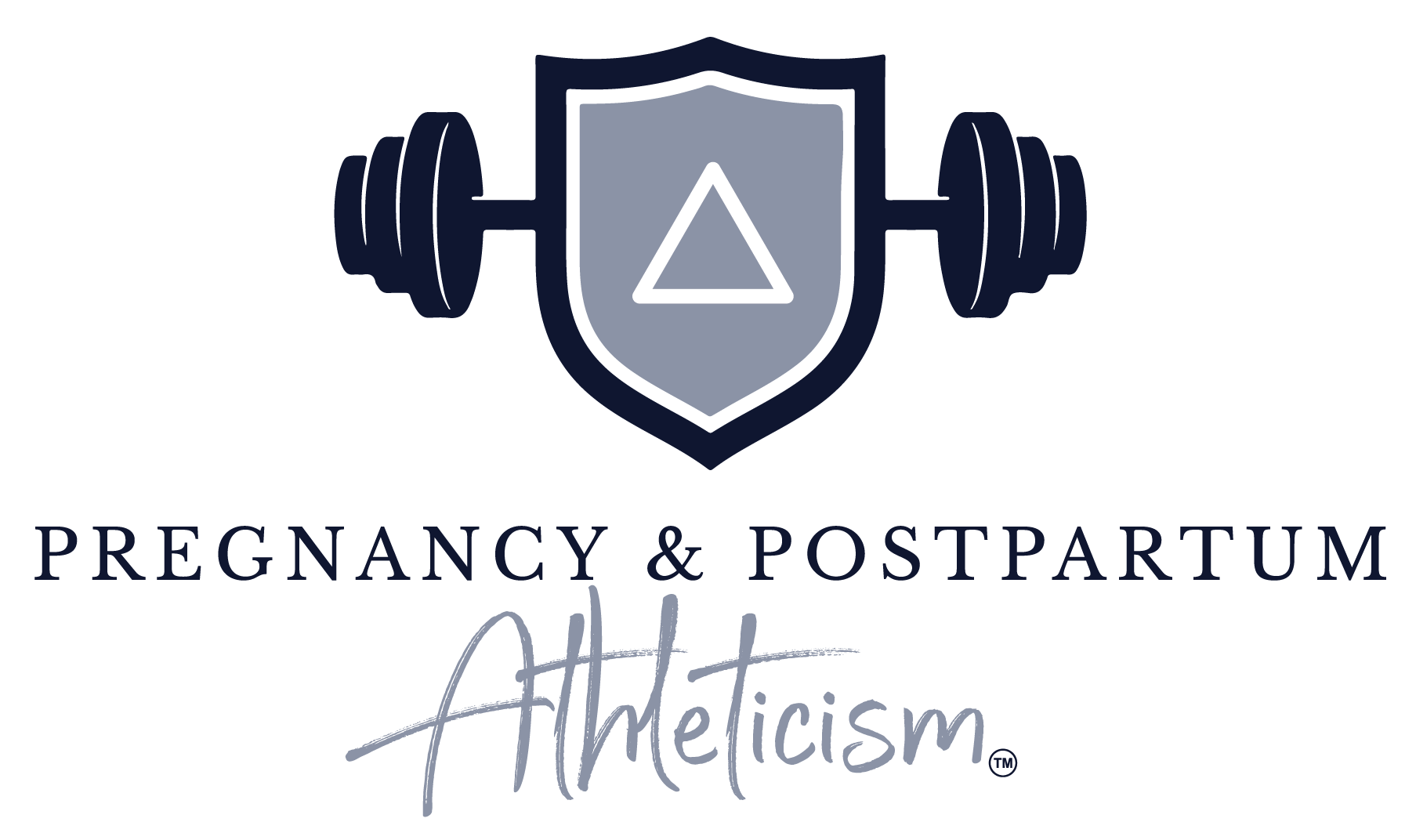 Pregnancy & Postpartum Athleticism is a power packed, online certification course that will up level your coaching skills and dramatically improve your ability to support pregnant and postpartum athletes.
Become part of the international team of P&PA coaches who are qualified and trusted to coach pregnant and postpartum athletes. Join us before the price increases!
Your Investment

If you buy now, your investment is only $1199.
We also offer a payment plan - simply sign up today for $440, and then pay another 2 monthly installments of $440.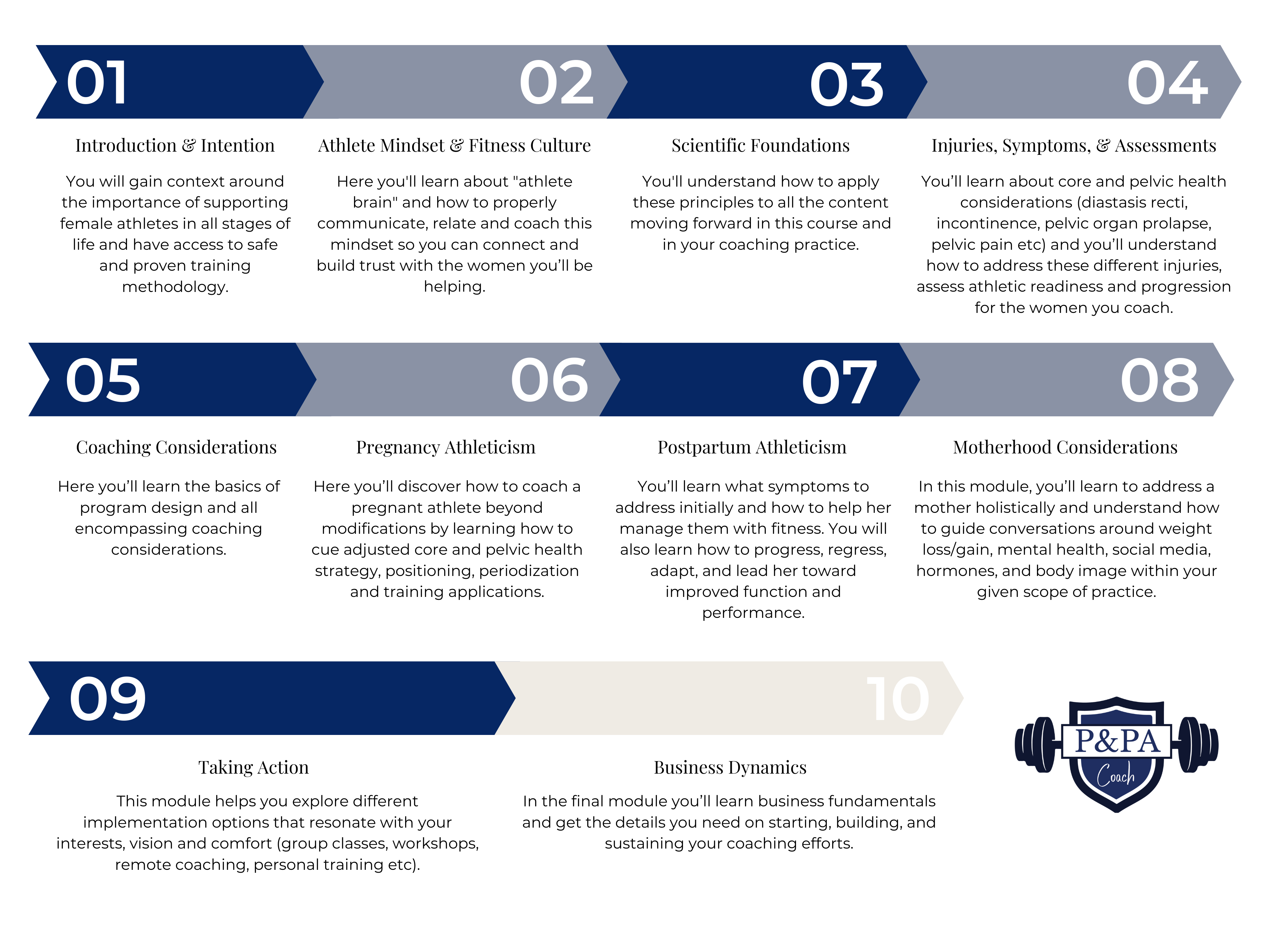 ATHLETES WHO TRUST BRIANNA'S COACHING AND THE METHODOLOGY BEHIND THE PREGNANCY AND POSTPARTUM ATHLETICISM™ MISSION: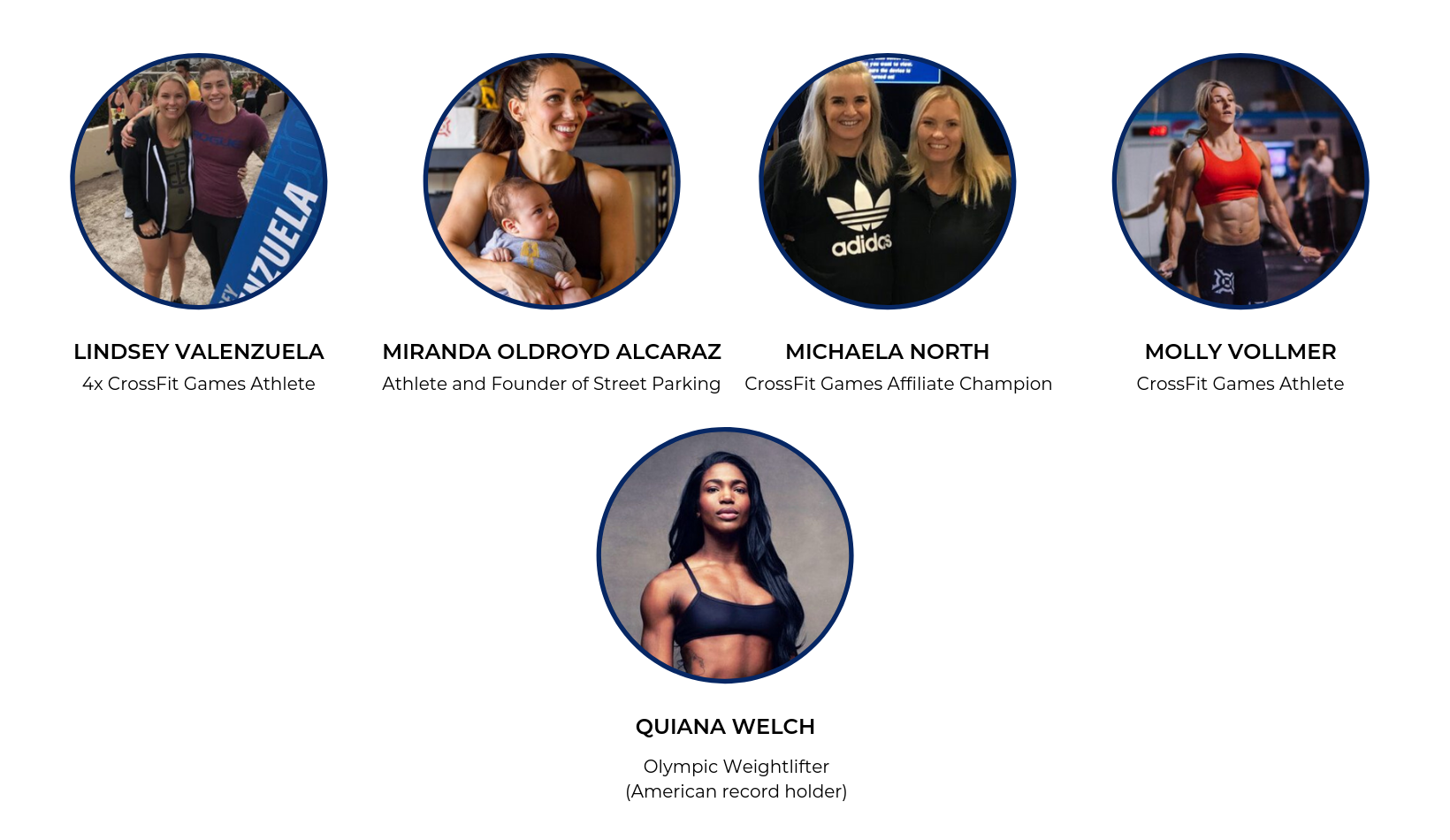 Your Instructor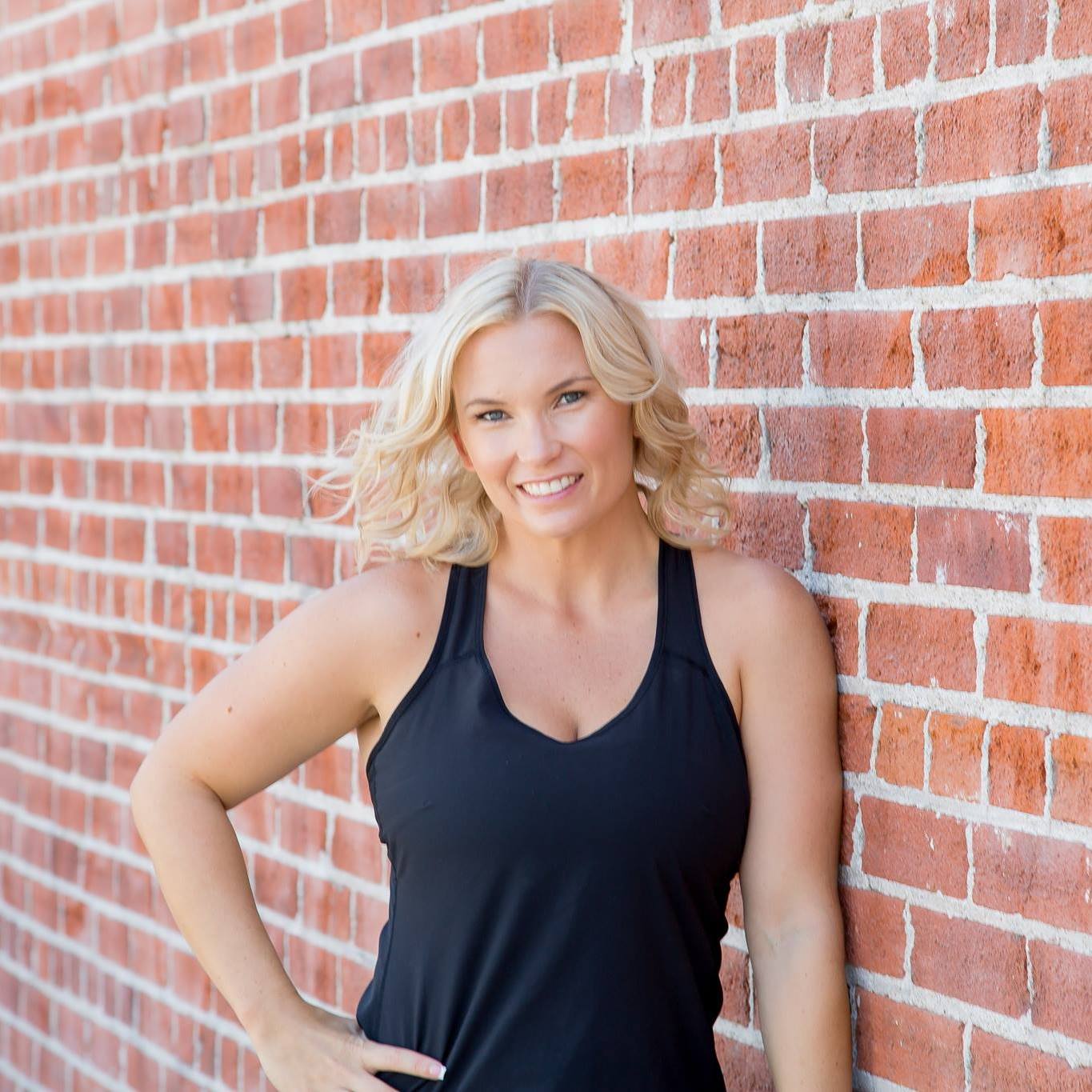 Brianna Battles is the CEO of Everyday Battles LLC and founder of the movement and education, Pregnancy & Postpartum Athleticism. She specializes in coaching pregnant and postpartum athletes, as well as educating coaches on how to help athletes navigate the physical and mental considerations of training during these chapters in a woman's life. Brianna has online courses and resources for both fitness professionals and athletes and is the founder of the movement and online education, Pregnancy & Postpartum Athleticism. She has built an international team of coaches who are equipped to work with pregnant and postpartum athletes.
Brianna is an advocate for women who want training during pregnancy and make a sustainable return to performance, lifestyle, function, career and activity in the postpartum chapter. She has been able to accomplish this not just with her own coaching efforts, but by also educating coaches to do the same in their communities and online.
Brianna has a local strength and conditioning program, but has shifted her focus to online education and traveling for seminars in an effort to reach a broader audience.
She has experience coaching a variety of athletes (and their coaches), ranging from professional and collegiate athletes, to the recreational exerciser. This is how she cultivated a top down approach to her coaching culture. She has helped many athletes manage core, pelvic health, orthopedic and other physical challenges while still encouraging their athletic goals and pursuits.
Brianna has her Master's Degree in Coaching and Athletic Administration and her Bachelor's degree in Kinesiology. She is an active member of the NSCA where she is a Certified Strength and Conditioning Specialist (CSCS), and a USAW Sports Performance Coach. She has completed multiple continuing education courses and mentorships in the women's health and strength and conditioning realm.
She lives in Southern California with her husband, 2 sons (Cade and Chance) and 2 boxers.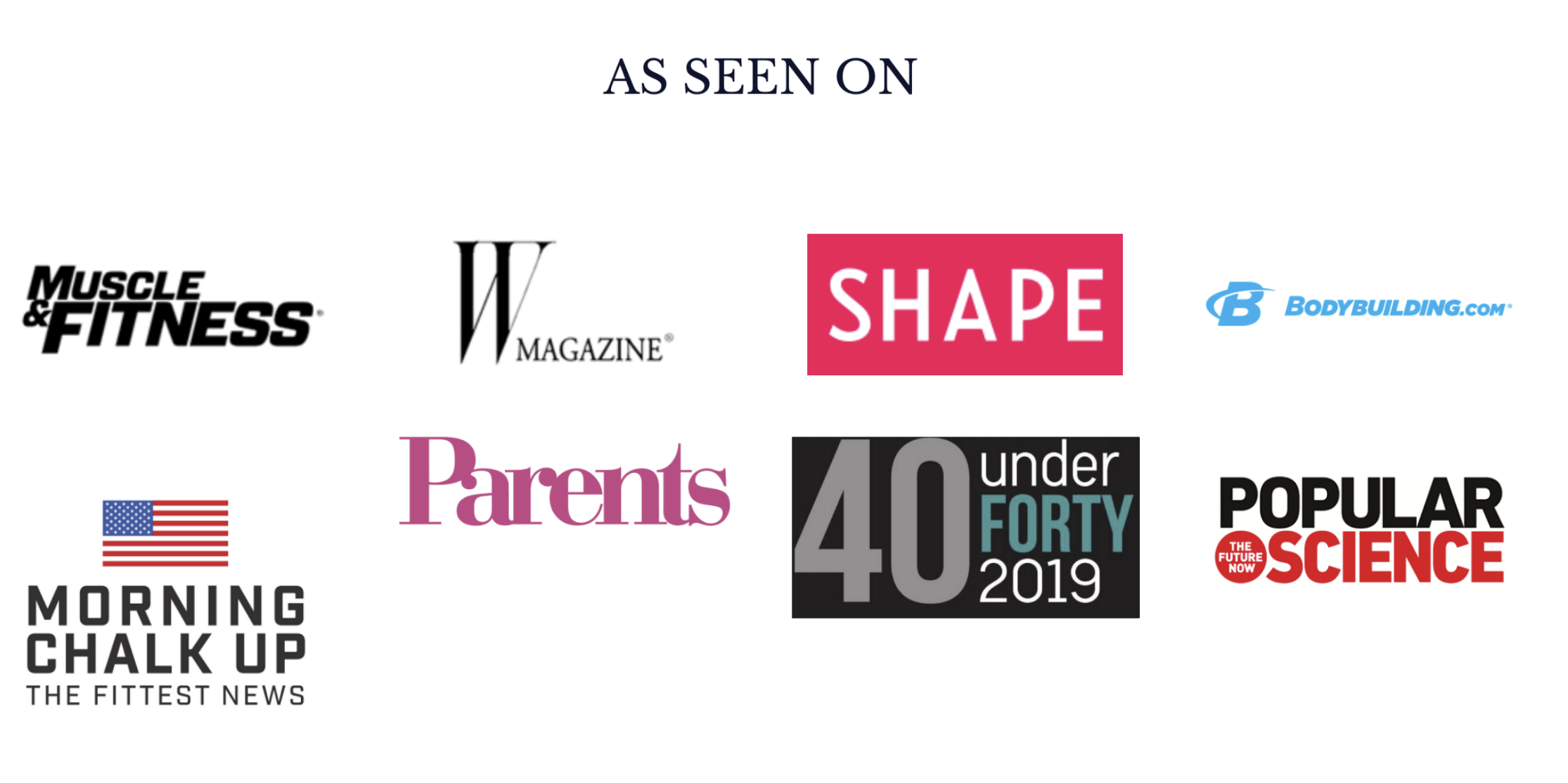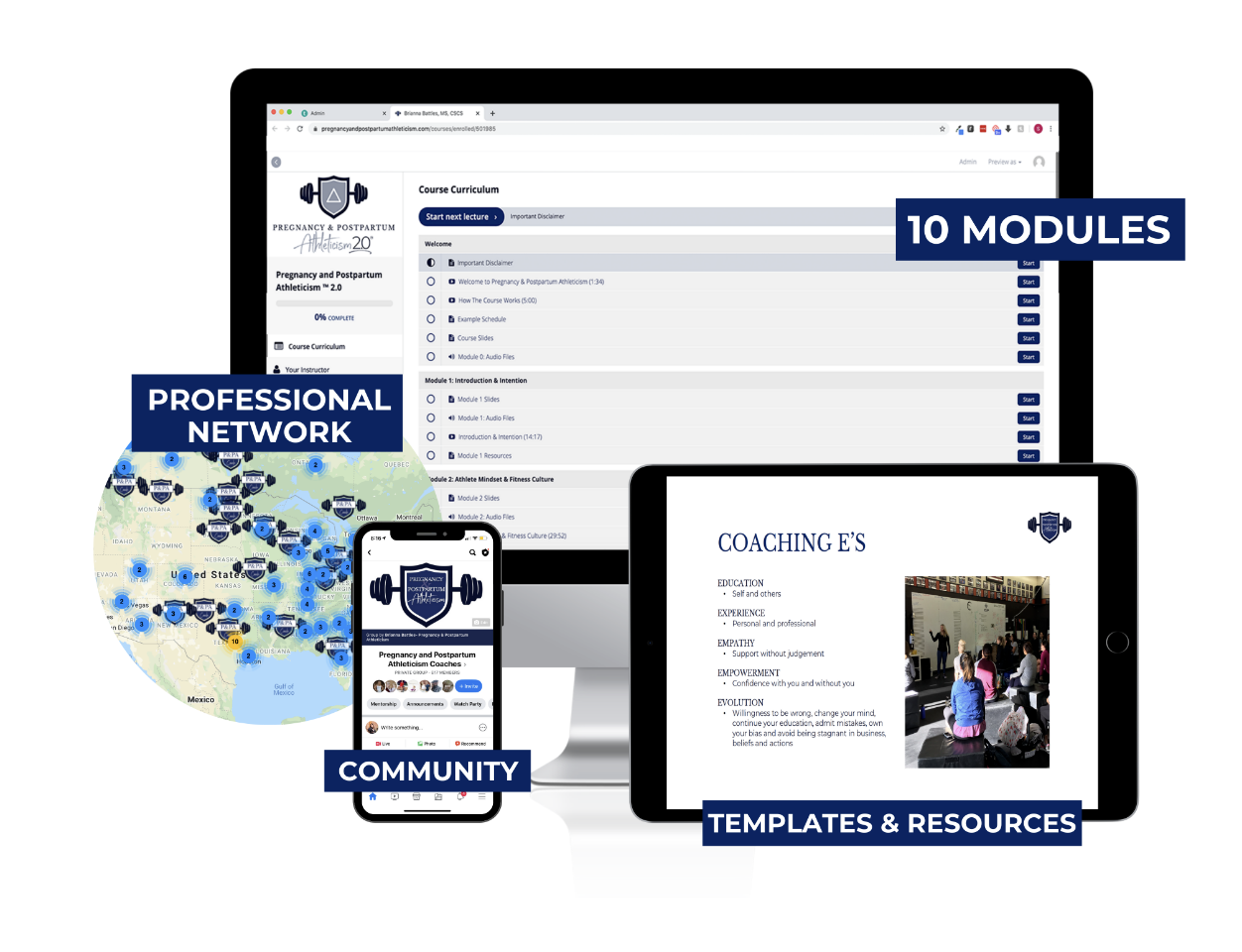 10 COACHING MODULES VALUE $2000
45 DAY COMPLETION GUIDE VALUE $50
30+ EXPERT INTERVIEWS VALUE $6000
20+ TEMPLATES, GRAPHICS & DOWNLOADABLE RESOURCES VALUE $200
126 PAGE PRINTABLE COURSE BOOK WITH OVER 200 SLIDES OF CONTENT VALUE $200
DOZENS OF MOVEMENT DEMONSTRATIONS FOR PREGNANCY AND POSTPARTUM VALUE $150
INTERACTIVE FACEBOOK GROUP FOR ONGOING SUPPORT AND COLLABORATION VALUE $1000
Hear interviews with multiple experts in the field of Physical Therapy, strength and conditioning, body image, kettlebell training, running, Yoga/Pilates, obstetrics and different athletes.
Interviews with professionals on business strategy, marketing and legal coverage.
The "How-To" Guide
This handy guide includes a c section scar massage tutorial, information on how to structure a local seminar or workshop, the infamous "No Pee Cheat Sheet", and details on how to recognize pressure distribution tendencies in the abdomen and toward the pelvic floor.
Movement Strategy Glossary
Enjoy this collection of video tutorials that demonstrate best practice for higher demand movements or considerations like kipping pull ups, Olympic lifts, burpees, and more.
This program is specifically designed to help you build your practice quickly.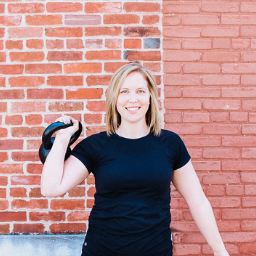 "I have taken other pregnancy and postpartum courses, but I quickly learned that I wasn't fully prepared to coach this population. Brianna's course changed that for me. Her evidence based information filled in a lot of missing pieces and helped me gain confidence in my coaching abilities. I have been able to reach so many women, collaborate with other amazing professionals, and have a few big projects in the works with organizations specifically because of the level of knowledge that I gained in this course. I'm so glad I found Bri and this supportive community."
- Casey Thomas Hardesty, Two-Peas Wellness
There's a time and place for listening to your own body, but pregnant and postpartum athletes often don't know what to listen for during this unique chapter of their lives. Misguidance can lead to unintentional injury and/or performance impairments postpartum - as a coach, you can help prevent this.
We don't expect other athletes to know proper form or technique when they're just starting out - working with this subset of athletes shouldn't be any different. Their needs analysis has significantly changed but their desire to keep training has not - they need a coach who understands that and can help them through it.
And maybe you've already taken other courses in this realm that speak to WHY pregnant and postpartum athletes should do things differently, but left you with little to no strategy on HOW to apply the new knowledge in your practice...
Here, you'll get a well-rounded education on both.
If you want a successful practice that helps women thrive through all chapters of their athleticism, it's time to get serious about becoming a trustworthy coach who knows how to help them.
As someone who's been in the strength, conditioning industry for over 10 years, I know the importance of offering each and every client quality guidance that's safe and fully grounded in evidence-based theory.
And as someone who specializes in coaching pregnant and postpartum athletes and coaches around the world, I want to help you connect and change the messaging and guidance, while growing your business and income.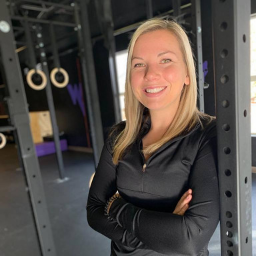 "Pregnancy and Postpartum Athleticism with Brianna Battles has changed the course of my life. It has changed the vision I have for my business and it is actually what pushed me to open my own business. I am so passionate about this and it is the change that is needed for women from everyday health into fitness.
The lack of knowledge around a woman's body during pregnancy and postpartum was truly shocking to me when I found myself pregnant in 2017. So the search began to find what was suitable for me to continue working out safety. As a crossfit coach myself I knew that the women in my gym were watching me and wanting to see what I did during my pregnancy. Like any coach, we want to deliver the safest and best information to our clients and I was defeated by the fact that there was much at all. Enter Brianna Battles. I was so excited to find her course and her information, it was and is exactly what is needed. So from there I wanted to share my personal experience and what I have learned as a P&PA coach with women in my community and really anyone who is listening!"
- Breanna Naccarato, P&PA Coach
Feeling confident in your ability and knowledge when a pregnant athlete needs help modifying her workout to accommodate her changing body.
Understanding how to help postpartum athletes recover, build up their strength, and manage the common, but not "normal" symptoms that often impact women.
Welcoming women that other trainers can't help (or have hurt), because you're the resource in her community who can help her safely achieve her goals.
But you can only get these kinds of results when you invest in your training and fully understand the needs of these ass-kicking athletes so they can confidently navigate their fit pregnancy and performance postpartum.
You can become the coach you wish you would have had, and the coach your community can trust.




A MESSAGE FROM THE INSTRUCTOR
I'm Brianna Battles, Founder and CEO of Pregnancy & Postpartum Athleticism ™ . I created this movement after the birth of my first son, when I realized my approach as an athlete, and my knowledge as a coach was off base. There were two approaches to training during pregnancy, one was the conservative recommendations (yoga, don't lift over 20lbs, etc), and the other was "be a badass!" and "train for birth." As an athlete and coach, I of course gravitated to the later. I thought I knew enough and felt fine physically and mentally in how I went about my training.
After I had my son, I was desperate to get back into my training, routine and lifestyle, but I slowly began realizing that this was much different than I anticipated, and all of the generalizations I was given significantly lacked context. I pushed myself mentally and physically and thought I was doing what was "best" and "right," especially as an experienced athlete and coach.
I spent the next few years diving into women's health information, research and networking with like-hearted professionals, combining that with the fundamentals of exercise science. I rehabbed, learned from multiple professionals and invested in continuing education opportunities. I implemented a different mindset and tactical approach, which allowed me to coach high level/professional athletes and experience testing these methods and all-encompassing game plan through pregnancy and postpartum.
After coaching thousands of pregnant and postpartum athletes both online and in my local community, I knew I would have the most reach by educating coaching professionals to do the same with their unique effort.
Frequently Asked Questions
What if I decide the course is not for me?
Due to the nature of this course, the content involved, and the clear description of what you're getting, we will not be offering refunds. But because of what this course provides, you won't need one! If you have any questions, please contact
[email protected]
!
Do I have to be a coach to benefit from this course?
No! This course is suitable for aspiring coaches, personal trainers and practitioners. However, this should be one form of continuing education for coaches, not the only. Still have questions? My team and I are happy to help - just reach out and ask away.
Is this course only for coaches in North America?
No! We have coaches from over 15 countries around the world, and the list is growing! The course is in English, so it is important that you are relatively fluent in English to be able to understand all of the course content.
I'm in the EU - will I get charged VAT?
If you're in the EU, you will get charged VAT based on where you are. Teachable automatically collects VAT on all purchases made from the EU - for us to be in compliance with EU laws, we have to collect VAT since this is a digital course purchase.
Can I get continuing education units for this course with my certifying organization?
Many coaches have successfully been able to petition their certifying organization for CEU credit.
Once I complete the course do I need to apply for the certificate and pay a fee?
No! Once you complete the course, you get your certificate of completion, coach badge and we'll list you on the professional network at NO extra cost (it's all included in the course price). In 2020 will be introducing a small annual fee to maintain your active coach status (this gives you ongoing access to course updates and any new educational modules plus all the P&PA coach benefits).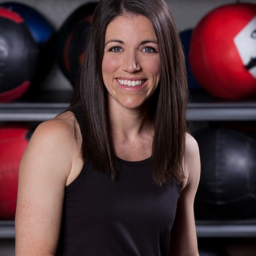 "I initially took the course when it first launched 2 years ago because I was a newly postpartum athlete trying to figure things out- i wanted to know more about how to truly function as an athlete, navigate my Diastasis Recti and incontinence, and to finally have a support system in place with professionals who understood.
"Practicing brave" and investing in myself that day two years ago was scary, exciting and life changing- dramatic words maybe but so very real.
I never thought two years ago I'd be sitting here as a business owner, planning consultation calls with women halfway around the world, speaking with elite CrossFit boxes about hosting workshops, working with Regionals athletes With Diastasis in cycling toes to bars, and helping women who just want to pick up their kids without pain. I never would have dreamed that the people in this program would become some of my closest friends and peers. All I had wanted was to get back to doing what i loved- which i am by the way- but on that I found my path in doing what I love."
- Kate Johnson, PP&A Coach
Is Pregnancy & Postpartum Athleticism for you?
YES, if you're a coach (or an aspiring coach), personal trainer, or physical therapist that wants to help female athletes feel supported and secure as they enter the vulnerable chapters of pregnancy and postpartum.
YES if you've taken other courses in this realm that speak to WHY pregnant and postpartum athletes should do things differently, but left you with little to no strategy on HOW to apply the new knowledge in your practice. Here, you get both.
YES, if you're passionate about being an advocate, supporter, and provider to women through all stages of life and want to give them the special treatment they need as they do the special work of bringing a new life into this world.
YES if you want to help women avoid the potential for physical injury and emotional turmoil that can result from making uneducated decisions about athletic training while pregnant or postpartum.
YES if you want to help pregnant and postpartum athletes put their health, safety, and sanity before their desires to have flat abs 6 weeks postpartum or to be as "hard core" as possible.
Still on the fence or not sure if my course is right for you? Here's a recap of what you'll be getting:
10 COACHING MODULES VALUE $2000
45 DAY COMPLETION GUIDE VALUE $50
30+ EXPERT INTERVIEWS VALUE $6000
20+ TEMPLATES, GRAPHICS & DOWNLOADABLE RESOURCES VALUE $200
126 PAGE PRINTABLE COURSE BOOK WITH OVER 200 SLIDES OF CONTENT VALUE $200
DOZENS OF MOVEMENT DEMONSTRATIONS FOR PREGNANCY AND POSTPARTUM VALUE $150
INTERACTIVE FACEBOOK GROUP FOR ONGOING SUPPORT AND COLLABORATION VALUE $1000